Dear members,
The time has come where we are now in full swing into the 2023/24 baseball season.
You are receiving this email as a current or past player/member over the last several seasons. If you are not returning to the club and no longer wish to receive communications from the Golden Grove Central Districts Baseball Club, please reply requesting to be removed from our mailing list.
The 2023/24 season will start for our State League sides on 14 October 2023 after the week of the Australian Masters Games in Adelaide. Junior Divisions will start the day after on Sunday, 15 October 2023, while our Women's Division 2 and 3 sides will start on 20 October 2023.
REGISTRATION INFORMATION 2023/24
Registrations are now open for the 2023/24 Season.
Please see attached correspondence on how to register.
https://ggcdbaseball.com.au/registration-information-for-2023-24-season/
If you require a new playing shirt this year, please see below information and contact our Director of Finance per attached instructions.
https://ggcdbaseball.com.au/playing-shirt-order-process-2023-24/
PRE-SEASON TRAINING ARRANGEMENTS
On Saturday, 2 September 2023 there will be a once off session to accommodate Father's Day and then we move back to Sunday on the 10th.
Please see attached pre-season training schedule for Saturday, 2 September.
SATURDAY, 2 SEPTEMBER TIMINGS (GROUND USE TBA)
JUNIORS
Under 11s (Minor League): 2pm
Under 13s (Little League): 9am to 11am
Under 14s(Intermediate League: 1pm to 3pm
Under 15s (Junior League): 11am to 1pm
Under 17s (Senior League): 12pm to 2pm
SENIORS
State League Division 1-2: Program communicated separately via Reed Brown
State League Division 3-8: 10am to 12pm
Women's League: 2pm to 4pm
WORKING BEE
The club will be hosting a working bee on Saturday, 9 September from 10am.
Please consider putting in an hour or two to assist in making our club the best across the league. All parts of our club use our grounds, and many hands will make light work.
The club will also be providing a trade table to swap and sell old gear on this day, it will be cash only.
The bar will be open and we will have the barbeque on for volunteers on the day.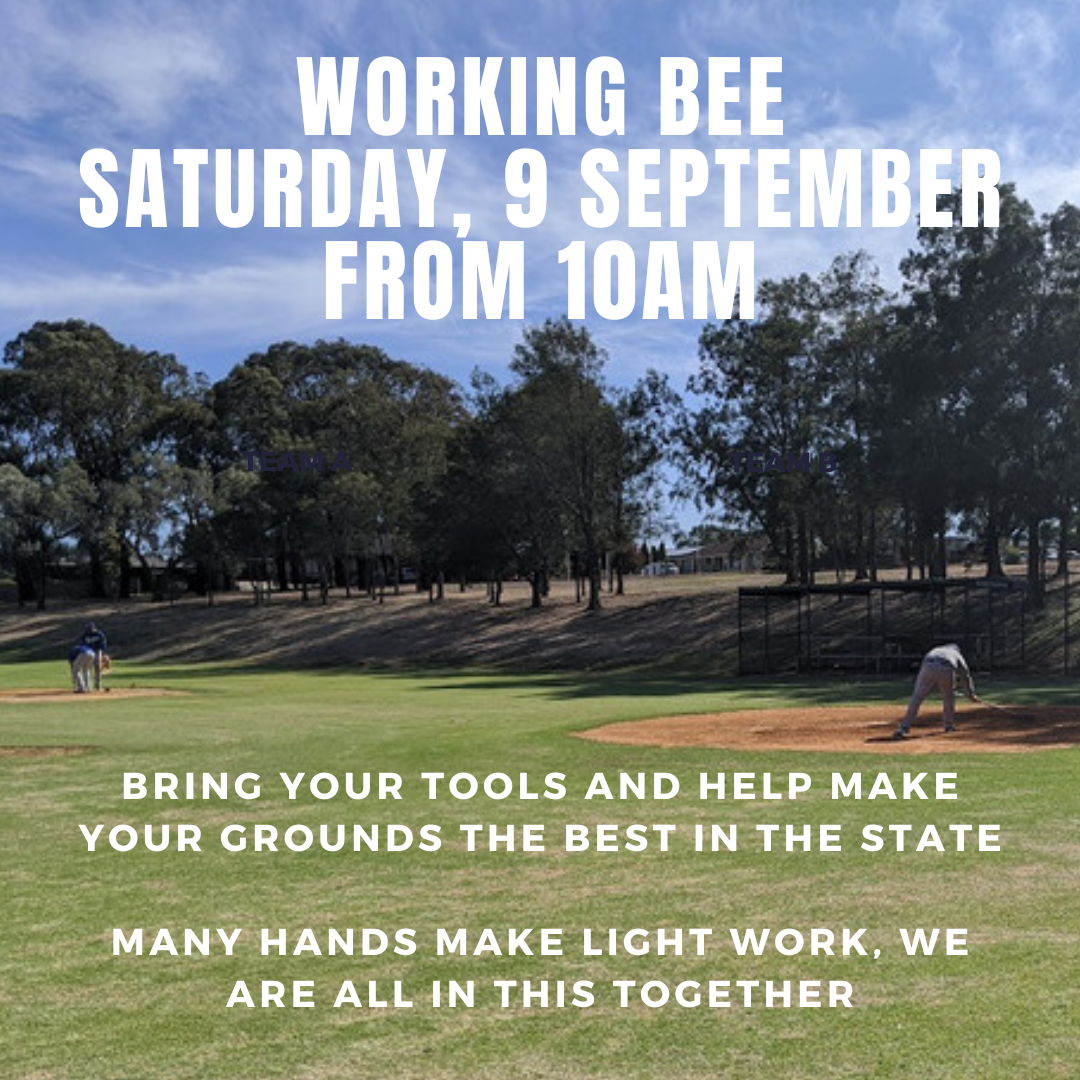 SEASON LAUNCH EVENT
We will be hosting an all club season launch event against Gawler Rangers Baseball Club on Sunday, 24 September 2023.
More information to come, keep an eye on our socials for up to date information around this and other events.
COME AND TRY T-BALL (DODGERS T-BALL 2023/24)
GGCD Baseball Club will be offering Under 7 and Under 9 teams this season in our Dodgers T-Ball 2023/24 Program.
When
We will play 12 games, starting 27 October to 8 December 2023, resuming on 5 February until 3 March 2024.
Games are played Friday nights from 5:30pm to 6:30pm at the Golden Grove Central Districts Baseball Club.
SA Government sports vouchers are accepted if eligible.
Come 'n' Try
We will host two pre-season Come 'n' Try dates at the club grounds.
Session 1: Monday, 16 October 2022 at 5:30PM
Session 2: Friday, 20 October 2022 at 5:30PM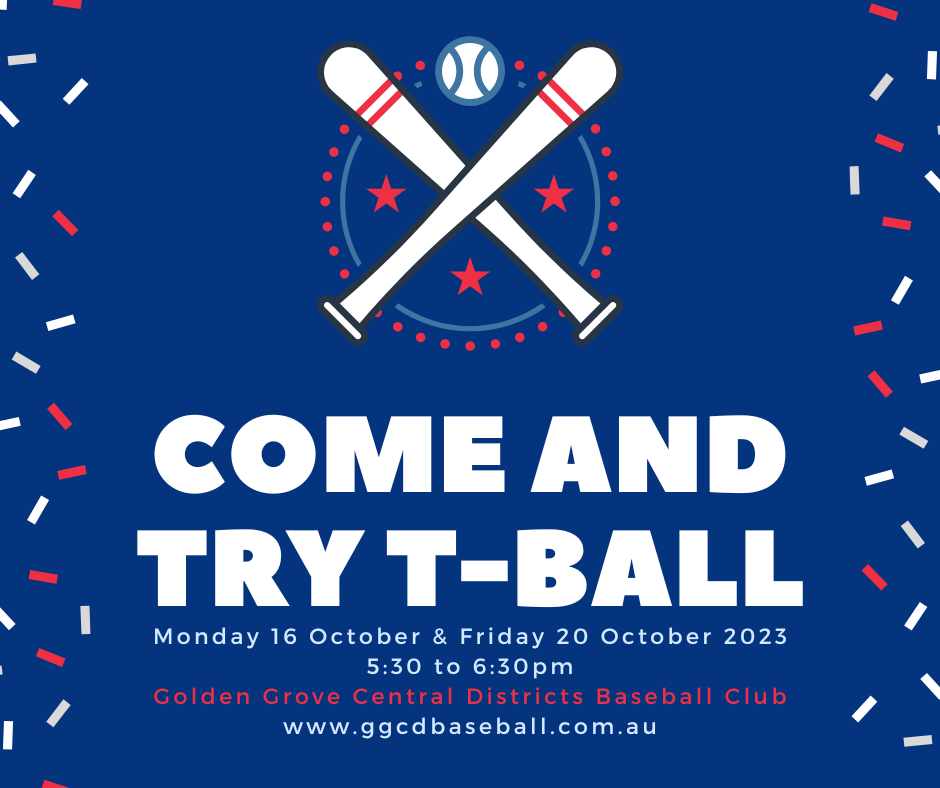 UPCOMING EVENTS
– Working Bee (Saturday, 2 September)
– Season Launch Club Event (Sunday, 24 September)
– Season start date (14-20 October)
SPONSORS
We are very thankful for our sponsors for the help and valuable assistance they provide our club.
Please consider supporting the businesses that support your club.
More information available at https://ggcdbaseball.com.au/sponsors/
Club pages to stay up to date:
Facebook members group: https://www.facebook.com/groups/1523263037904411
Dodgers T-Ball group: https://www.facebook.com/groups/DodgersTBall
Facebook page: http://www.facebook.com/ggcdbaseball
On behalf of the Golden Grove Central Districts Baseball Club
E: secretary@ggcdbaseball.com.au
PO BOX 24
SURREY DOWNS SA 5126