Dear members,
Tonight brings the end to our Dodgers T-Ball program for the season, and hopefully the cool change comes earlier in the night so they can enjoy their last game. There will be a presentation ceremony held at the conclusion of their games on the hill in front of the clubrooms. If the weather stays too hot to play, then it will move to 6pm instead, so either way there will be a send off to our young players tonight.
If you are at the club tonight, or not too busy, please wear a Dodgers shirt and come down to support the kids on their final night.
This Saturday our Division 1 side take on Sturt in what should be an action packed game. Coinciding with this is our Ladies Day event, so please see information attached and speak to Liv Trembath for what should be another great day and Dodger event.
Good luck to all our players, volunteers and supporters this week around the club in their games.
WEEKEND FIXTURES
Dodgers T-Ball – Friday, 24 February 2023
Chiefs vs Padres (Under 8s) at 6pm
Jets vs Bears (Under 8s) at 6pm
Cubs vs Blue Jays (Under 8s) at 6pm
Spirits vs Braves (Under 10s) at 6pm
Giants vs Pirates (Under 10s) at 6pm
Women's League – Friday, 24 February 2023
Division 2 vs Glenelg (Home) at 6pm
Division 3 Dodgers vs Glenelg (Away) at 6pm
Division 3 GGCD vs Southern Districts (Away) at 6pm
State League – Saturday, 25 February 2023
Division 1 vs Sturt (Home) at 4pm
Division 2 vs Sturt (Home) at 1:30pm
Division 3 vs Sturt (Home) at 11:10am
Division 5 vs Northern Districts (Home) at 2:10pm
Division 6 vs Henley and Grange (Away) at 11:20am
Division 7 vs East Torrens (Away) at 9am
Division 8 vs East Torrens (Home) at 9am
Junior Divisions – Sunday, 26 February 2023
Senior League Division 1 vs Southern Districts (Away) at 11am
Senior League Division 2 vs Kensington (Home) at 11am
Junior League Division 1 vs Henley and Grange (Home) at 1:30pm
Junior League Division 2 vs Henley and Grange (Home) at 1:30pm
Intermediate League vs Southern Districts (Home) at 4pm
Little League Division 1 vs West Torrens (Home) at 11am
Little League Division 2 Dodgers vs Kensington (Away) at 11am
Little League Division 2 GGCD vs West Torrens (Away) at 11am
Minor League Dodgers vs Sturt (Away) at 9am
Minor League GGCD vs Gawler (Away) at 9am
LADIES DAY
Ladies Day is this Saturday! Please see Liv Trembath, our Director of Fundraising and Events for more information. We look forward to seeing all Dodgers ladies out on the day!
Tickets are available via revolutionise:
https://www.revolutionise.com.au/ggcd/events/177446/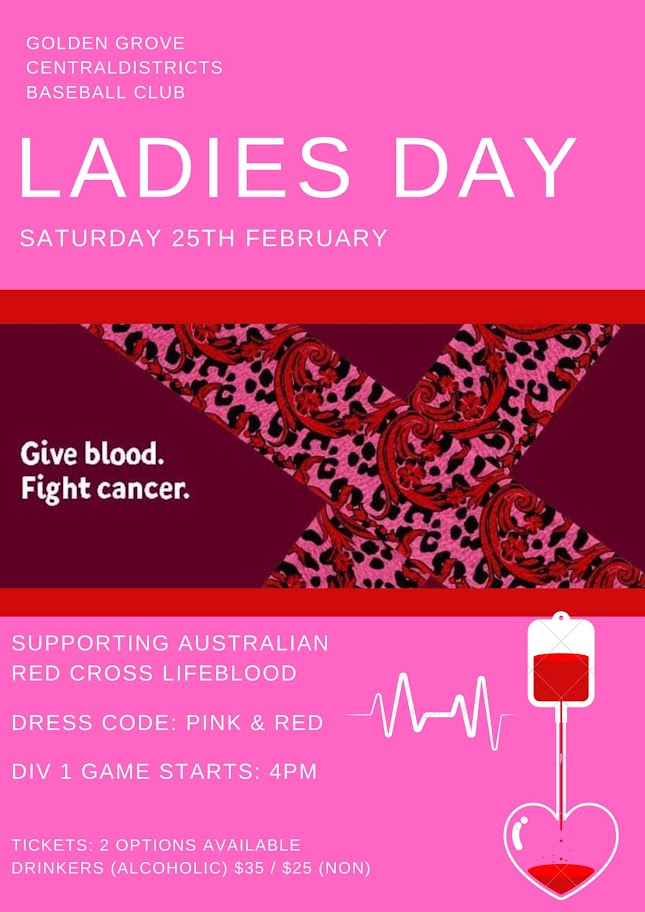 A VERY DODGY QUIZ NIGHT
Our club's Quiz Night was held at Ardtornish Primary School last Saturday with the theme of a 'Very Dodgy Quiz Night" and there were definitely some very dodgy outfits on show. It was great to have a good laugh outside of the diamond with our fellow club members.
Categories on the night included General Knowledge, History, Geography, Australiana, Pop Culture, Sport, and of course, Baseball. Bonus rounds included "Name the MLB Mascot" and "Who is that Dodger Baby/Toddler", which included one Dodger who didn't even recognise their own photo.
Other games on the night were Heads or Tails, and some always entertaining coin skimming games.
Best dress was voted by all tables and went to the below Dodgers:
– Sam Tibbits for extra effort, DIY mohawk really stood out and he won a personalised LA Dodgers playing top.
– Jodie Walsh for her great Kath tracksuit getup.
– Michelle Hallam for her impressive full Kimmy outfit.
Honourable mentions in the votes went to Sam Pullens, Shaun Evans, Heather Wardrop, Janine Fedorchuk-Weeks and the family of the Barnes mullets.
Thanks to Liv Trembath and all her helpers, including Janine Fedorchuk-Weeks, Tess Diplock, Lauren Leske, Jackie Tagg, and Michelle Hallam.
Photos available via our members group:
https://m.facebook.com/groups/1523263037904411/permalink/3513397405557621/?mibextid=Nif5oz
LITTLE LEAGUE DEVELOPMENT CHARTER TEAM TRIALS
Registrations are now open for the 2023 Little League Development SA charter teams.
This is a great opportunity for any players that are eligible to get an experience of representative baseball, and the State Tournament will be held at West Beach from 21-23 April.
More information below:
https://www.baseballsa.com.au/events/178386/
AUSTRALIAN MASTERS GAMES
The Australian Masters Games are in Adelaide this year, running from Saturday, 7 October until Thursday, 12 October.
The Dodgers are looking to nominate one or multiple teams based on interest from club members this year. There is a maximum of 18 players for each team, with up to 7 additional support staff (maximum of 25 medals if successful in gaining a top 3 finish). We will also need scorers, team managers, non-playing coaches, and an umpire for each team.
Divisions available:
Men: 35, 40, 50
Women: 35
Express Interest here
https://forms.office.com/r/VBcEpfruh8
Australian Masters Games information available here
https://australianmastersgames.com/sport/baseball/
UPCOMING EVENTS
– T-Ball Break-Up (Friday, 24 February)
– Ladies Day (Saturday, 25 February)
– Junior/Senior Presentation Nights (Dates TBA)
SPONSORS
We are very thankful for our current sponsors for the help and valuable assistance they provide our club.
Please consider supporting the businesses that support your club.
More information available at https://ggcdbaseball.com.au/sponsors/
Club pages to stay up to date:
Facebook members group: https://www.facebook.com/groups/1523263037904411
Dodgers T-Ball group: https://www.facebook.com/groups/DodgersTBall
Facebook page: http://www.facebook.com/ggcdbaseball
On behalf of the Golden Grove Central Districts Baseball Club
E: secretary@ggcdbaseball.com.au
PO BOX 24
SURREY DOWNS SA 5126