Dear members and supporters,
The baseball season is finally here, and we are all ready to go for our games this weekend after months of pre-season preparation and behind the scenes work.
The State League starts this weekend and our Junior Divisions start on Sunday! Our women's program has a weekend off before starting next week, and our T-Ball Come and Try's will begin next week.
After our State League Division 1 team held a successful trial against Gawler Rangers at our club season launch last month, they will now start their season with new coach Reed Brown at Kensington on Saturday, come on out at 4pm to watch the top level of the club compete this season.
Canteen and Bar rosters are available via our facebook members group, and on behalf of the club, good luck everyone with your games this weekend!
WEEKEND FIXTURES
STATE LEAGUE – SATURDAY, 14 OCTOBER 2023
Division 1 vs Kensington at 4pm (away)
Division 2 vs Kensington at 1:3J0pm (away)
Division 3 vs Kensington at 11:10am (away)
Division 4 vs East Torrens at 8:50am (away)
Division 6 vs Flingers University at 11:50am (home)
Division 7 Blue vs Flinders University at 9:30am (home)
Division 7 Red vs East Torrens at 9:30am (home)
JUNIOR DIVISIONS – SUNDAY, 15 OCTOBER 2023
Senior League Division 1 (U17/1) vs Glenelg at 11am (home)
Senior League Division 2 (U17/2) vs Adelaide at 11am (away)
Junior League Division 1 (U15/1) vs Port Adelaide at 1:30pm (home)
Junior League Division 2 Blue (U15/2) vs Adelaide at 1:30pm (home)
Junior League Division 2 White (U15/2) vs Henley and Grange at 1:30pm (away)
Intermediate League (U14) vs Port Adelaide at 4pm (home)
Little League Division 1 (U13/1) vs West Torrens at 11am (home)
Little League Division 2 Blue (U13/2) vs Port Adelaide at 11am (away)
Little League Division 2 White (U13/2) vs Northern Districts at 11am (away)
Minor League Blue (U11) vs Kensington at 9am (away)
Minor League White (U11) vs Henley and Grange at 9am (away)
REGISTRATION
Remember if you are not registered you are not available for selection and cannot take the field this weekend.
Playing an unregistered player will result in the team forfeiting and the club receiving a monetary fine, so please make it easier on your coaches and managers.
If you need assistance, please contact Sharee Forrester at finance@ggcdbaseball.com.au or 0429676581.
https://ggcdbaseball.com.au/registration-information-for-2023-24-season/
T-BALL COME AND TRY
Dodgers T-Ball Come and Try starts next week!
T-Ball is a great introduction to bat and ball sports, so tell your friends and family if they have young children that this family program may be for them.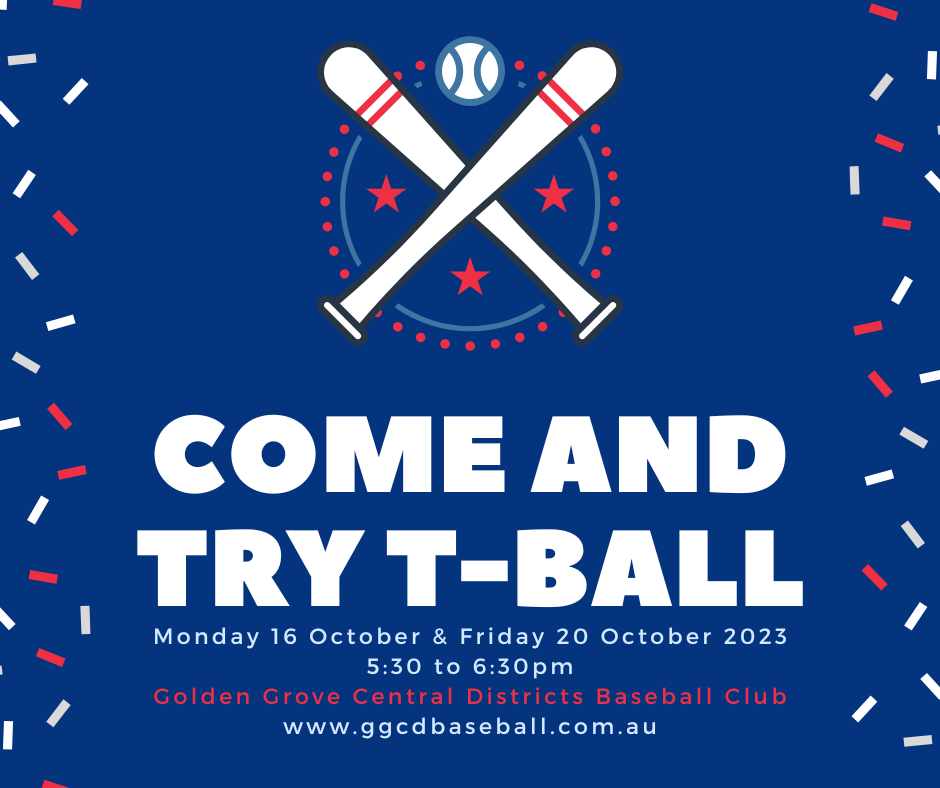 SCORER'S CLINIC
Vicky West will be continuing scorer's clinics from this week for anyone that is wanting to either learn or touch up their skills.
Any brand new scorers, please come from 7:30pm, and if you have already been attending arrive at 7pm.
You can contact Vicky West via email on vicky.west@bigpond.com or by mobile 0411275008 for more information.
WELCOME NATHAN HOLT
Welcome to Nathan Holt from Shippensburg, Pennsylvania to our club this season!
Nathan is a right hand pitcher from Shippensburg, Pennsylvania, who has played the last two seasons in the Frontier League in the USA.
We look forward to seeing you on and around the diamond this season! If you see Nathan around the club, please make him feel welcome.
T-BALL UMPIRE CLINIC
If your kids want to earn a little money this season, come on our Wednesday, 18 October from 5pm at the club and learn to umpire T-Ball.
It's a fun and rewarding way for some of our junior players to learn new skills and contribute to a fun Friday night program.
PLAYER AUCTION NIGHT
Next weekend we will be hosting a player auction night for our senior squad at the clubhouse.
Come on out and watch our State League Division 1 side take on Goodwood at 4pm for their first home game, and then join in with your friends and team-mates to bid on your favourite player.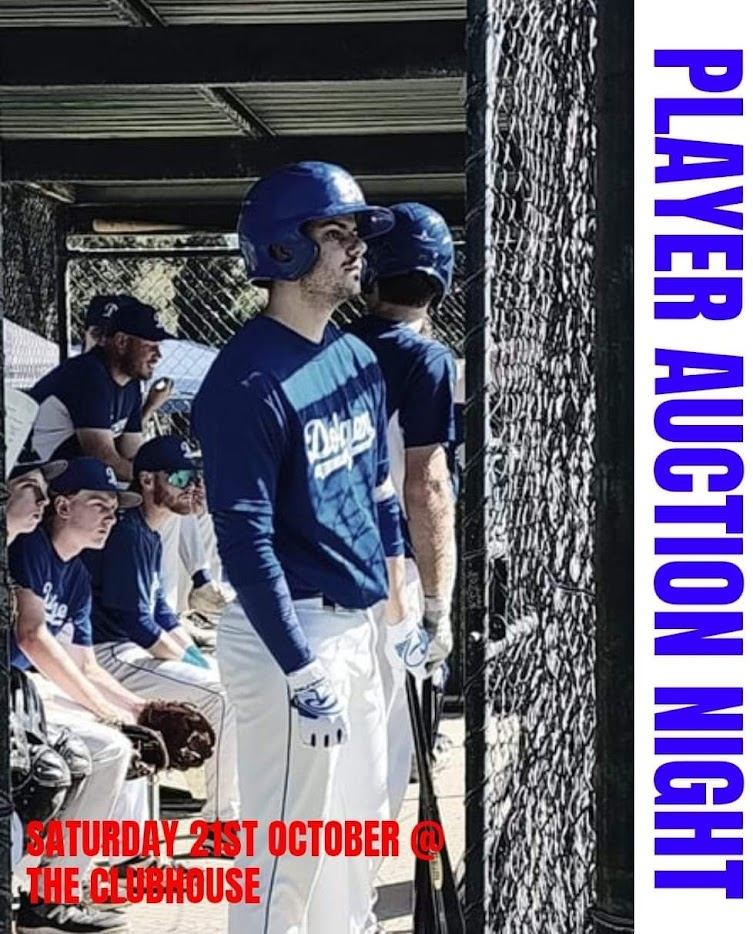 UPCOMING EVENTS
– Season start date (14-20 October)
– T-Ball umpire clinic (Wednesday, 18 October)
– Player Auction night (Saturday, 21 October)
– Dodgers Halloween (Saturday, 28 October)
SPONSORS
We are very thankful for our sponsors for the help and valuable assistance they provide our club.
Please consider supporting the businesses that support your club.
More information and update packages available at https://ggcdbaseball.com.au/sponsors/
Club pages to stay up to date:
Facebook members group: https://www.facebook.com/groups/1523263037904411
Dodgers T-Ball group: https://www.facebook.com/groups/DodgersTBall
Facebook page: http://www.facebook.com/ggcdbaseball
On behalf of the Golden Grove Central Districts Baseball Club
E: secretary@ggcdbaseball.com.au
PO BOX 24
SURREY DOWNS SA 5126