Dear members,
This week brings T-Ball and Women's Baseball back to Illyarrie, our annual Halloween Party is back after our four home games on Saturday. Our Division 1 side is playing East Torrens at home at 4pm, come out and see the talent at the top of the club this week.
Our Women's sides have had a long pre-season, and we are sure they are looking forward to putting their skills to action on the diamond this week – except for Shaun's team who unfortunately got the bye in Round 1.
Canteen and Umpiring rosters are available on our Facebook members group, links at bottom of this email. Please ensure coaches or team managers check this weekly.
Umpire's wanted for the Women's Friday night game, if you are available please contact Shaun Evans and advise your availability.
T-Ball and Women's Registrations
With T-Ball and Women's starting this week, please ensure you have completed your registration in order to be able to get your spot on the field.
If you are having difficulty making payment, please contact our Director of Finance, Sharee Forrester via baseball@sharee.com.au or 0429 676 581 after 5pm. Sharee will also be at the club Thursday night to assist with any issues.
Weekend Fixtures
Women's League Round One – Friday, 28 October 2022
Women's Division 2 vs Goodwood (Home) at 6pm
Women's Division 3 Dodgers v Adelaide (Away) at 6pm
Women's Division 3 GGCD bye round
T-Ball Round One, Friday, 28 October 2022
Pirates vs Braves (Under 10s) at 6pm
Giants vs Spirits (Under 10s) at 6pm
Blue Jays vs Bears (Under 8s) at 6pm
Padres vs Cubs (Under 8s) at 6pm
Chiefs vs Jets (Under 8s) at 6pm
State League Round Four – Saturday, 29 October 2022
Division 1 vs East Torrens (Home) at 4pm
Division 2 vs East Torrens (Home) at 1:30pm
Division 3 vs East Torrens (Home) at 11:10am
Division 5 vs Sturt (Away) at 2:10pm
Division 6 vs Henley and Grange (Away) at 11:50am
Division 7 vs Adelaide (Away) at 9:30am
Division 8 vs Sturt (Home) at 9am
Junior League Round Three – Sunday, 30 October 2022
Senior League Division 1 (Greg) vs Sturt (Home) at 11am
Senior League Division 2 (Phill) vs Gawler (Away) at 11am
Junior League Division 1 (Sam) vs East Torrens (Home) at 1:30pm
Junior League Division 2 (Scott) vs Port Adelaide (Home) at 1:30pm
Intermediate League (Danun) vs Kensington (Home) at 4pm
Little League Division 1 (Matt/Shane) vs West Torrens (Away) at 11am
Little League Division 2 Dodgers (Darryl) vs Kensington (Away) at 11am
Little League Division 2 GGCD (Bianca) vs West Torrens (Home) at 11am
Minor League Dodgers (Deanne) vs Southern Districts (Away) at 9am
Minor League GGCD (Davey) vs Northern Districts (Away) at 9am
Thursday Night Club Meal
Our Canteen Manager Jacki will be serving her Nana's Outback Curried Sausages this week. It's a kid friendly meal, feel free to come out and give it a try.
With the 50 club draw, our Bar Manager Andy has 12 squares left to sell, ready for 19 November for the big draw. Get your ticket now before it's too late.
Halloween at the Dodgers
Halloween is almost here! This Saturday, 29 October from 6:30pm, we are hosting a Halloween night to remember. This event is always popular amongst younger and not-so-young members, so get your costume ready and come out to Dodger town.
The club canteen will be open with hot food and spooky treats. Jacki will be serving nuclear fried rice if you are not sure what to make before coming out. They'll be fun games including dizzy bats and more.
Get your costume ready and do the diamond walk. Who will win the Best Dressed Dodgers this year?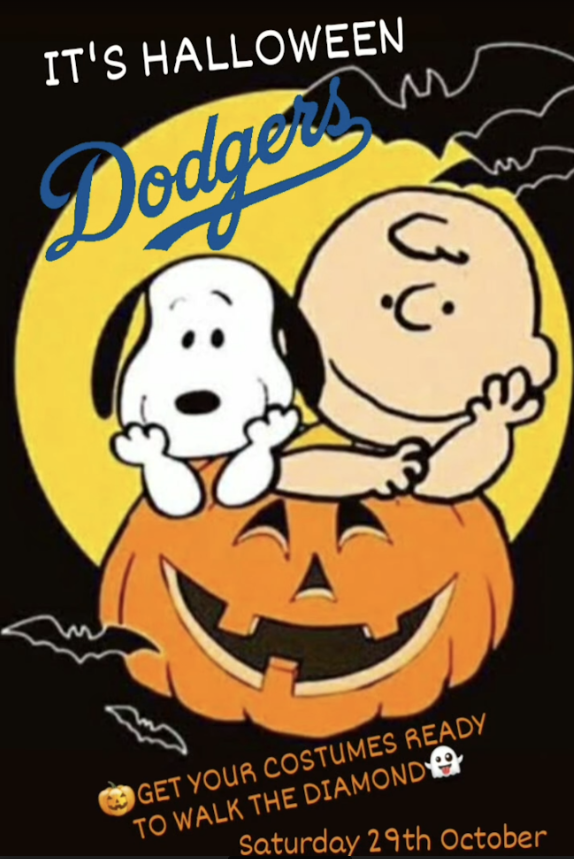 Senior Player Auction
The Senior Player Auction is back this season. You've had your chance to view the Senior squad in action at home now after their first hard fought wins, so get ready to bid on your favourite player next week. Any bid will be accepted, large or small, so either individually or grouped with friends, come and show your support for the squad.
The event will be held on Thursday, 3 November at 7:30pm during our club night, come enjoy a meal with other friends and members, and maybe you'll buy a winner.
Senior Players in the Division 1-3 squad will be up for auction, and at the end of each home game the respective coach will decide who was best on ground, where the player and the purchaser will then receive players vouchers that are valid to be used at the club this season.
Recycling and Ground Maintenance
Recycling
Please dispose of cans and bottles is the club's collection bins (240lt). When setting up before each game, please place a milk crate outside each dug out for the can and bottle collection.
It is estimated that hundreds of dollars is thrown in the general waste bins at 10c a piece.
Ground maintenance
With the rain that Adelaide has had so far this year, and the expectation that we will see more. It is important that after games and training that the cut outs are raked level to stop water pooling in low spots.
Loose dirt and clay will also become sloppy, so please compact this where possible. Compacted areas will handle the rain better.
Upcoming Events
– Dodgers Halloween (Saturday, 29 October)
– Senior Player Auction (Thursday, 3 November)
– Sponsors/Life Member's Night (Tuesday, 15 November)
Sponsors
The club is seeking new sponsorship opportunities this season to help support our club, if you have a connection to a business that is looking for sponsorship opportunities, please reach out to our Sponsorship Coordinator Bob Neiswander at sponsorship@ggcdbaseball.com.au, he will be looking forward to speaking to you.
More information available at https://ggcdbaseball.com.au/sponsors/
We are very thankful for our current sponsors for the help and valuable assistance they provide our club. Please consider supporting the businesses that support your club.
Club pages to stay up to date:
Facebook members group (please indicate your connection to the club when requesting membership): https://www.facebook.com/groups/1523263037904411
Dodgers T-Ball group: https://www.facebook.com/groups/DodgersTBall
Facebook page: http://www.facebook.com/ggcdbaseball
On behalf of the Golden Grove Central Districts Baseball Club
E: secretary@ggcdbaseball.com.au
PO BOX 24
SURREY DOWNS SA 5126