Dear members and supporters,
We are back in action for all our sides this week, after our Dodgers T-Ball got called off due to weather last week, and all our Junior sides in action this week!
Check out the event schedule below, and see how you can be involved further around our club this season.
Good luck to all teams and players this week!
WEEKEND FIXTURES
DODGERS T-BALL – FRIDAY, 17 NOVEMBER 2023
UNDER 7s
Spirits vs Chiefs (Diamond 1) at 5:30pm
Jets vs Bears (Diamond 2) at 5:30pm
UNDER 9s
Rays vs Pirates (Diamond 3) at 5:30pm
Pirates vs Tigers (Diamond 4) at 5:30pm
Giants vs Padres (Diamond 5) at 5:30pm
WOMEN'S LEAGUE – FRIDAY, 17 NOVEMBER 2023
Division 2 vs West Torrens (Away) at 6pm
Division 3 Blue bye round
Division 3 White vs Henley and Grange Maroon (Home) at 6pm
STATE LEAGUE – SATURDAY, 18 NOVEMBER 2023
Division 1 vs Southern Districts (Away) at 4pm
Division 2 vs Southern Districts (Away) at 1:30pm
Division 3 vs Southern Districts (Away) at 11:10am
Division 4 vs Southern Districts (Away) at 8:50am
Division 6 vs Kensington (Home) at 11:50am
Division 7 Blue vs Port Adelaide (Away) at 9:30am
Division 7 Red vs Henley and Grange Maroon (Home) at 9:30am
JUNIOR DIVISIONS – SUNDAY, 19 NOVEMBER 2023
Senior League Division 1 vs Port Adelaide (Away) at 11am
Senior League Division 2 vs Port Adelaide (Home) at 11am
Junior League Division 1 vs West Torrens (Away) at 1:30pm
Junior League Division 2 Blue vs Kensington (Home) at 1:30pm
Junior League Division 2 White vs Sturt (Home) at 1:30pm
Intermediate League vs Port Adelaide (Away) at 4pm
Little League Division 1 vs Henley and Grange (Away) at 11am
Little League Division 2 Blue vs Adelaide (Home) at 11am
Little League Division 2 White vs Woodville (Away) at 11am
Minor League Blue vs Gawler (Home) at 9am
Minor League White vs East Torrens (Home) at 9am
THURSDAY NIGHT CLUB NIGHT
Reminder that club meals are back this season on Thursday nights! This week the Division 4 side will be cooking a selection of BLT or Egg and Bacon Rolls for $10.
MERCHANDISE ORDERS
Due to popular demand there will be another order session of our club merchandise, look out for the link in our members group below for the orders to be delivered in early January.
https://www.facebook.com/groups/1523263037904411/posts/3683347321895961
DODGERS JUNIORS AT THE GIANTS
Tomorrow night our Juniors have a chance to be involved on field with the Adelaide Giants for on field action and a guard of honour for the Giants!
Participating Juniors and Coaches get Free entry, and parents can purchase tickets at a discounted price if they wish to attend and watch the Giants take on the Brisbane Bandits.
Players were to RSVP via coaches, and parents can purchase additional tickets below:
https://mpv.tickets.com/?agency=BITE_MPV&orgid=52154&eventId=3177&fbclid=IwAR374fIV7D6cNWC-YzdVKQSvZUrwsSDoKj3EcSf5JgV1XsdIKKxA1hBmwyU#/event/E3177/ticketlist/?view=pricescales&minPrice=25&maxPrice=25&quantity=2&sort=price_asc&ada=false&seatSelection=false&onlyCoupon=true&onlyVoucher=false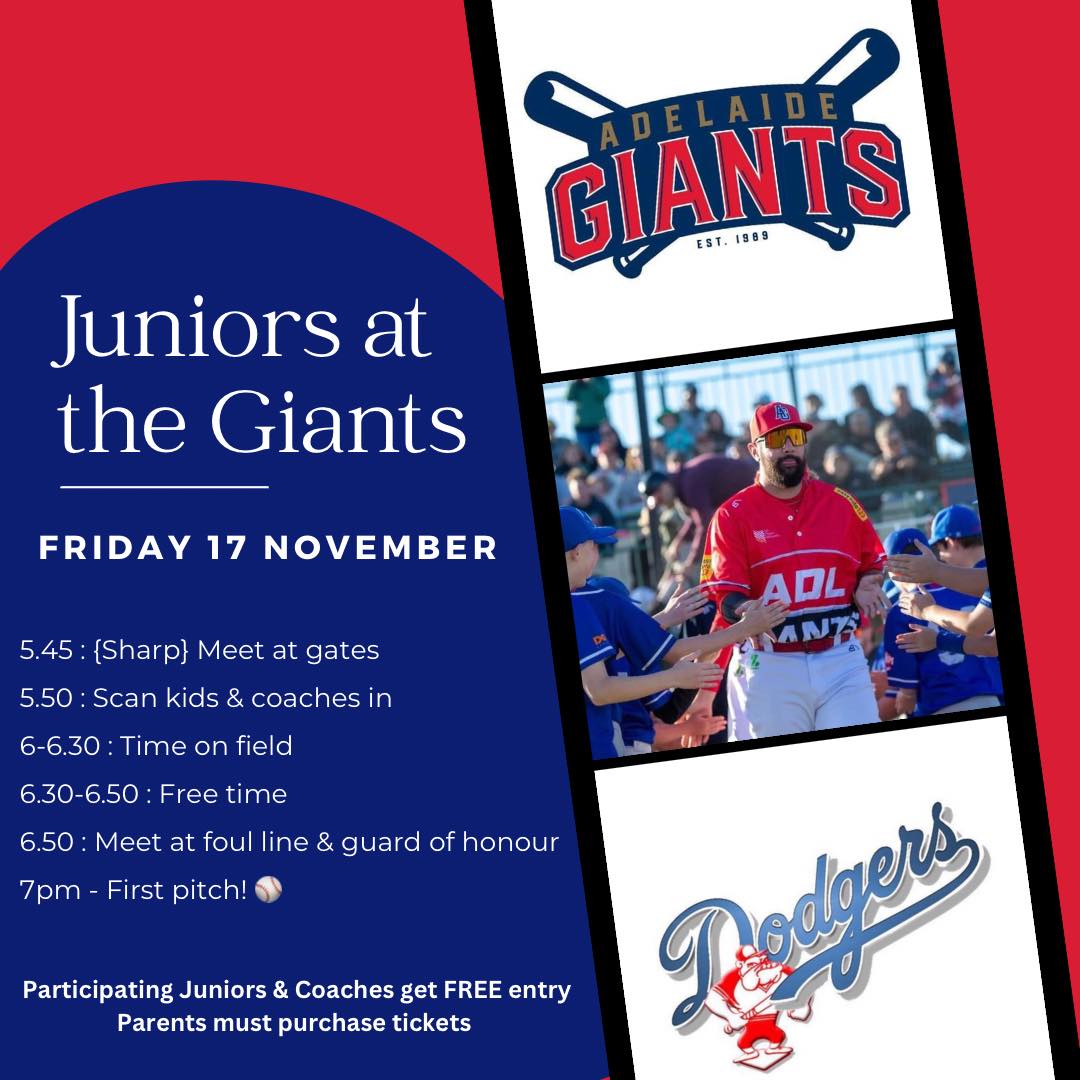 SOUTH AUSTRALIA STATE SQUAD SELECTIONS
The GGCD Baseball Club would like to congratulate Jett Chenoweth (U16), Lucas Manson (U16), and Tyler Green (U18) on their selections to the Under 16 and Under 18 South Australia State Squads.
We would also like to acknowledge the other junior Dodgers who tried out and made it through the selection process but just missed out this time.
Well done boys, and we can't wait to see you compete!
SENIOR PLAYER AUCTION BEST ON GROUND
As part of the Senior Player auction this season, the best on ground are selected each game, the winning bidders of these players receive a Dodgers voucher and if not at the club on the Saturday game you can pick up on the Thursday night afterwards.
Players are chosen by the coaches on the day and going forward will be presented after home games.
Best Player vs Goodwood
Division 1 – Nick Wallis (bought by Tom Norley)
Division 2 – Jaryd Hardman (bought by John Inglis)
Best Player vs Woodville
Division 1 – Isaac Pearce (bought by Brayden Caskey)
Division 2 – Jett Chenoweth (bought by Brandon Manzella and Nick Wallis)
SHUFFLE NIGHT
Last Saturday, the club held a successful 'Shuffle Night' fundraiser, where entrants purchased songs and then the first and last song were declared winners.
Michelle Hallam took out the first song of the night with Bon Jovi – Livin' on a Prayer, and the overall winner was Tom Norley with What You Know by Two Door Cinema Club.
All grins by Tom Norley below. Thanks again to our Events and Fundraising Director, Liv Trembath, for organising and putting on the night.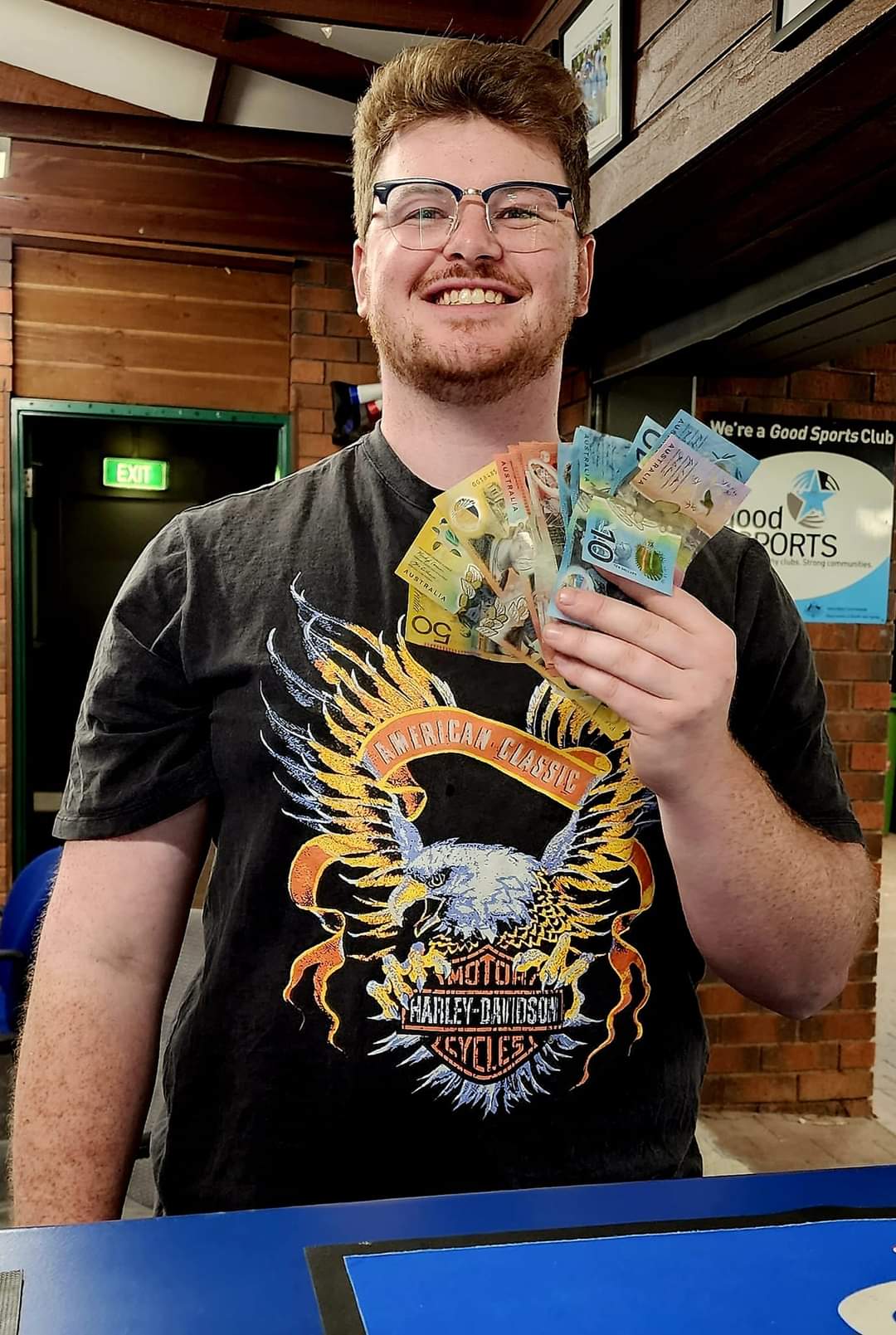 50 CLUB
Back by popular demand this season, the 50 club will be open from Thursday, 16 November 2023 via the club bar.
The final draw will be conducted in January at a to be advised date, and will include 10 individual draws, and then a reverse draw where the top 3 will take out a cash prize of $100, $300 and $700 respectively.
See Scott at the bar for more information, payment must be taken at time of selection to be eligible to enter.
SMOKING INFORMATION
The club wishes to advise club members as well, if smoking at the ground please do so away from other members and from high traffic areas such as the walkways in the car parks, club room entrance, and behind dugouts/spectator areas.
Thank you for your cooperation.
UPCOMING EVENTS
– Junior/Senior Training Night (Wednesday, 6 December 2023)
– T-Ball Christmas Break-up (Friday, 8 December 2023)
– Dodgers Christmas Olympics (Saturday, 16 December 2023)
– Ladies Day (Saturday, 20 January 2023)
– Sponsors and Life Members Day (Saturday, 10 February 2024)
– Bingo Night (Saturday, 24 February 2024)
SPONSORS
We are very thankful for our sponsors for the help and valuable assistance they provide our club.
Please consider supporting the businesses that support your club.
More information and update packages available at https://ggcdbaseball.com.au/sponsors/
Club pages to stay up to date:
Facebook members group: https://www.facebook.com/groups/1523263037904411
Dodgers T-Ball group: https://www.facebook.com/groups/DodgersTBall
Facebook page: http://www.facebook.com/ggcdbaseball
On behalf of the Golden Grove Central Districts Baseball Club
E: secretary@ggcdbaseball.com.au
PO BOX 24
SURREY DOWNS SA 5126