Dear members,
Semi Finals weekend is amongst us, we are very much in the tailend of the season now. Four of our sides look forward to playing in the Semi Finals this weekend.
Congratulations to the 14 of our sides that got the chance to extend their season and experience finals baseball. With 9 out of 10 of our Junior sides, and all 3 of our Women's League sides making finals, the club has a lot to look forward to in years to come.
It would mean a lot to our continuing sides to have a sea of blue supporting them this weekend as they strive to make the big Grand Final. If you are able to come out, please put on some blue and head out to support this weekend.
The club wishes good luck to everyone that is playing this weekend, and hope you get the result you have been playing for!
WEEKEND FIXTURES
Women's League – Friday, 17 March 2023
Division 3 Dodgers vs Henley and Grange (Away) at 5:45pm
State League – Saturday, 18 March 2023
Division 8 vs Adelaide (Home) at 9am
Junior Divisions – Sunday, 19 March 2023
Senior League Division 1 vs Kensington (Away) at 11am
Little League Division 1 vs Southern Districts (Away) at 11am
Dodgers v GGCD (Home) at 9am
50 CLUB NIGHT
This Saturday, 18 March, will be the final 50 club draw of the season.
Our In-House operations Director, Andy Brown is looking forward to seeing everyone there that is able to make it for what should be a fun night for everyone.
JUNIOR PRESENTATION NIGHT
Our club is holding our Junior Presentation at Waterworld again this season after the success of previous years. This will be held on Saturday, 1 April for a 6:15pm arrival time. Please RSVP to your coach by 27 March as we need to know numbers.
SENIOR PRESENTATION NIGHT
Our club is holding our Senior Presentation Night at the Modbury Hotel on Friday, 31 March in what should be a great night to celebrate our club this season.
The menu is attached below, and any dietary requirements please advise so we can notify the venue.
Payment information below, strictly online payments only.
https://www.revolutionise.com.au/ggcd/events/181483/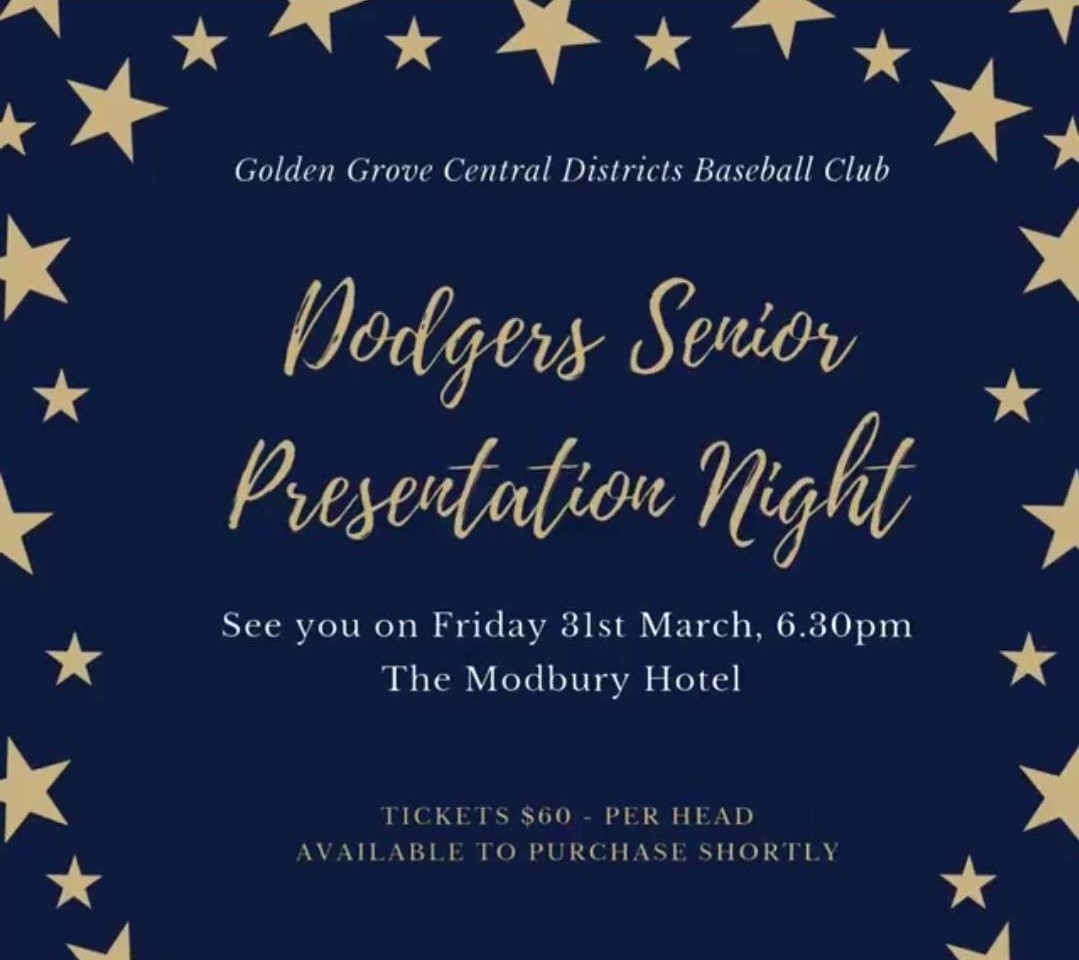 CAPPS MEDAL
The Capps Medal evening is being held on Wednesday, 22 March at Adelaide Entertainment Centre. A change from last season, it will be indoors and a formal two course sit-down dinner.
We have several players this season that have had outstanding years and ended up in the top 5 of their Division. Division 1 is not announced as the count will be conducted on the night, however AJ Verastegui was announced this week as one of the League's pitching standouts this season with 112 strikeouts this season
Congratulations again to the below players that are in the top 5 of their respective Divisions this season.
Katie Carpenter – Women's Division 2
Breanna Rix – Women's Division 3
John Inglis – State League Division 2
Alex Earle – State League Division 3
Brandon Diplock – State League Division 5
Shane George – State League Division 6
Gavin Payne – State League Division 7
Stuart Matthews – State League Division 8
SCORERS NIGHT
On Wednesday night the club hosted a thank you night for all our scorer's this season.
Without all our scorers the games cannot be played, even scoring one game when someone is not available does a lot to ensure we can put all our teams on the field each week.
Thank you to Vicky West and Michael Phillips for answering everyone's questions on the night, and being able to debrief after a big season this year.
WORLD BASEBALL CLASSIC
Unfortunately this week, Australia got knocked out in the Quarter Finals after a hard fought 3-4 game against a tough Cuba side. This is the first time Australia progressed out of the group stage, so it was a big achievement in itself to get as far as we did.
Australia finished second in their group, beating South Korea, China and the Czech Republic. Coming up against a star-filled Japan side they were unable to overcome.
There was also a familiar face to our club in the Czech Republic side, with one of our import players from the 2015 era, Jeff Barto, representing their colours. Some of our current players were team-mates with Jeff, and were likely watching along and supporting him as well.
Jeff Barto on the mound for GGCD in 2015-16 season

Jeff Barto batting for GGCD in 2016.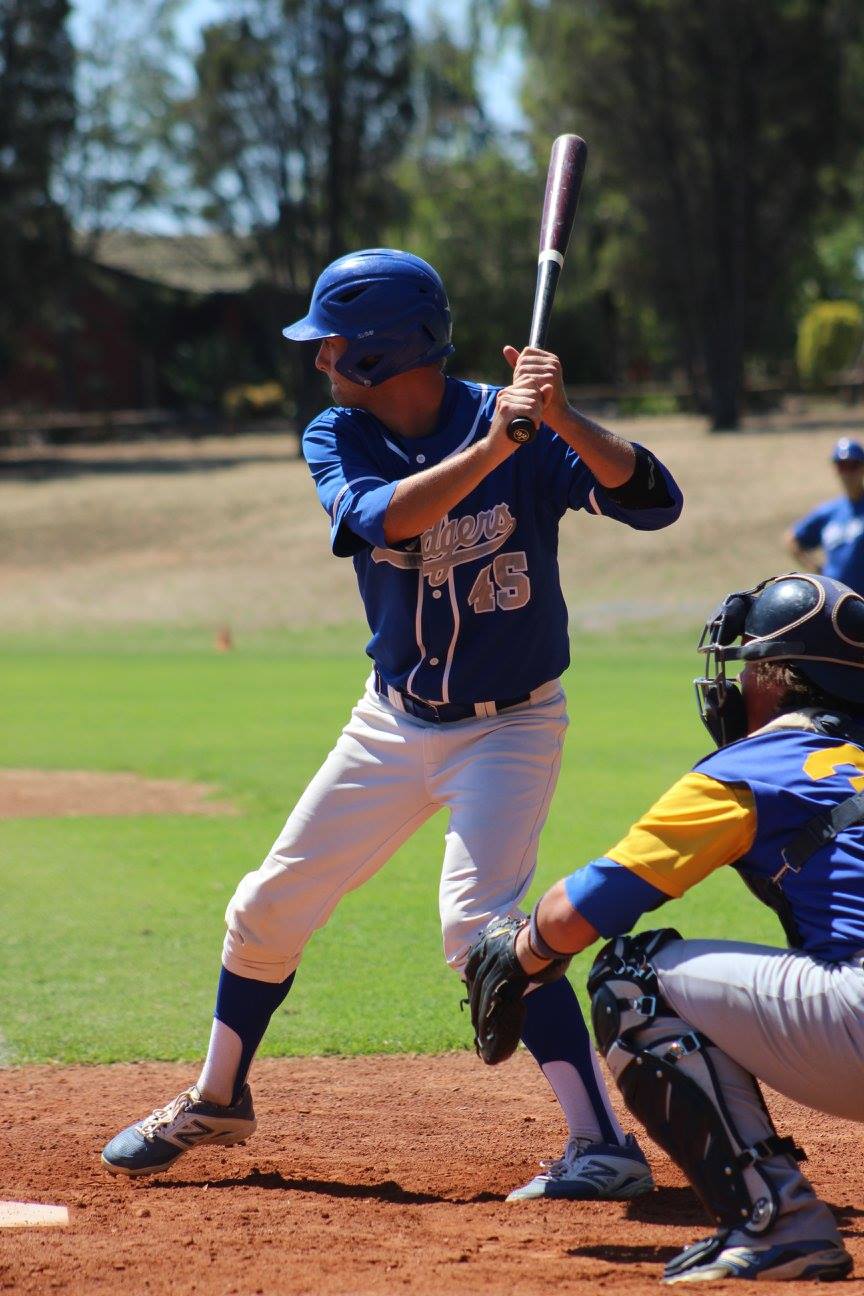 Jeff Barto on the mound for the Czech Republic at the 2023 World Baseball Classic in Tokyo, Japan.

UPCOMING EVENTS
– 50 Club Night (Saturday, 18 March 2023)
– Capps Medal Presentation Ceremony (Wednesday, 22 March 2023)
– Senior Presentation Night (Saturday, 31 April 2023)
– Junior Presentation Night (Saturday, 1 April 2023)
SPONSORS
We are very thankful for our current sponsors for the help and valuable assistance they provide our club.
Please consider supporting the businesses that support your club.
More information available at https://ggcdbaseball.com.au/sponsors/
Club pages to stay up to date:
Facebook members group: https://www.facebook.com/groups/1523263037904411
Dodgers T-Ball group: https://www.facebook.com/groups/DodgersTBall
Facebook page: http://www.facebook.com/ggcdbaseball
On behalf of the Golden Grove Central Districts Baseball Club
E: secretary@ggcdbaseball.com.au
PO BOX 24
SURREY DOWNS SA 5126