Dear members,
It's beginning to look a lot like Christmas, and we have one week left of the baseball season for 2022 before we go into a well-deserved break over the Christmas and New Year period.
There are a couple of Christmas break-up events this weekend at the club, Dodgers T-Ball has a visit from Father Christmas on Friday, and then our 50 Club draw on Saturday including the draw of our Christmas Raffle (tickets still available at the bar!)
After a hard fought win on Tuesday night against Northern Districts, our Division 1 State League side are now sitting 5th on the ladder, looking to cement our spot in the top 6 in the coming weeks. Our Division 1 side is also home on Tuesday night, why not come out and support them as they take on Adelaide as a send off before Christmas?
WEEKEND FIXTURES
DODGERS T-BALL ROUND 8 – FRIDAY, 16 DECEMBER 2022
Spirits vs Pirates (Under 10s)
Giants vs Braves (Under 10s)
Jets vs Blue Jays (Under 8s)
Chiefs vs Cubs (Under 8s)
Padres vs Bears (Under 8s)
WOMEN'S LEAGUE ROUND 8 – FRIDAY, 16 DECEMBER 2022
Division 2 vs Kensington (Home) at 6pm
Division 3 Dodgers vs Kensington (Away) at 6pm
Division 3 GGCD vs Glenelg (Away) at 6pm
STATE LEAGUE ROUND 11 – SATURDAY, 17 DECEMBER 2022
Division 1 vs Port Adelaide (Away) at 4pm
Division 2 vs Port Adelaide (Away) at 1:30pm
Division 3 vs Port Adelaide (Away) at 11:10am
Division 5 vs Southern Districts (Home) at 2:10pm
Division 6 vs West Torrens (Away) at 11:10am
Division 7 vs West Torrens (Home) at 9:30am
Division 8 vs Gawler (Home) at 9am
JUNIOR DIVISIONS ROUND 10 – SUNDAY, 18 DECEMBER 2022
Senior League Division 1 vs East Torrens Blue (Away) at 11am
Senior League Division 2 vs Kensington (Home) at 11am*
Junior League Division 1 bye round
Junior League Division 2 vs Adelaide (Home) at 1:30pm
Intermediate League vs Kensington (Away) at 4pm
Little League Division 1 vs Glenelg (Home) at 11am*
Little League Division 2 Dodgers vs Sturt (Home) at 11am*
Little League Division 2 GGCD vs East Torrens (Away) at 11am
Minor League Dodgers vs Port Adelaide (Away) at 9am
Minor League GGCD vs Goodwood (Home) at 9am
*PLEASE NOTE, the club is aware of a fixture clash at 11am at Illyarrie on Sunday. We are rectifying this with the League and opposition clubs, but it is dependent on what can be accommodated by our club and opposition teams, please note that one of these sides will be having a fixture amendment and we will advise via Facebook and coaches as soon as we have confirmed. Please speak to our Junior Operations Director Andy Weeks if you have any questions.
STATE LEAGUE ROUND 11 (CONT.) – TUESDAY, 20 DECEMBER 2022
Division 1 vs Adelaide (Home) at 6pm
AROUND THE CLUB
DODGERS T-BALL CHRISTMAS BREAK-UP
It's nearly Christmas time, and Father Christmas will be at Illyarrie this Friday!
We have a weather forecast of 23 degrees for the day, so it looks to be a nice night for it.
After the games, Father Christmas will arrive to take any last minute requests from the players (brothers and sisters are of course welcome as well).
Each team is to sit together on the hill and will be called down one team at a time for their visit. He will be seated just outside the veranda's main entrance with his big red bag of goodies.
Each child will be given a small gift and a bag of lollies, in addition each player will be given a voucher by their Coach for a free sausage sizzle and drink (fruit box or can of soft drink) at the Canteen.
JUNIORS AT THE GIANTS
Some of Dodgers Juniors will be on field at the Adelaide Giants vs Perth Heat before the game on Friday night, showcasing their development and skills on the main field at West Beach across a variety of drills.
The participating players are invited to stick around to watch the game for free, and parents will be able to get discounted ticket prices (please speak to your coach to receive the link for this).
It should be a fun night for all!
DODGERS CHRISTMAS RAFFLE
As advised online and at the club, we are having a Christmas Hamper Raffle this year and it will be drawn this Saturday evening, 17 December from 7:30pm.
The hamper will contain – in addition to a Leg of Ham (and one for the second prize, also) – lots of fine wines, spirits and other goodies – all for $2 a ticket.
Your Coach has a raffle book so you can purchase your lucky ticket from them or at the bar.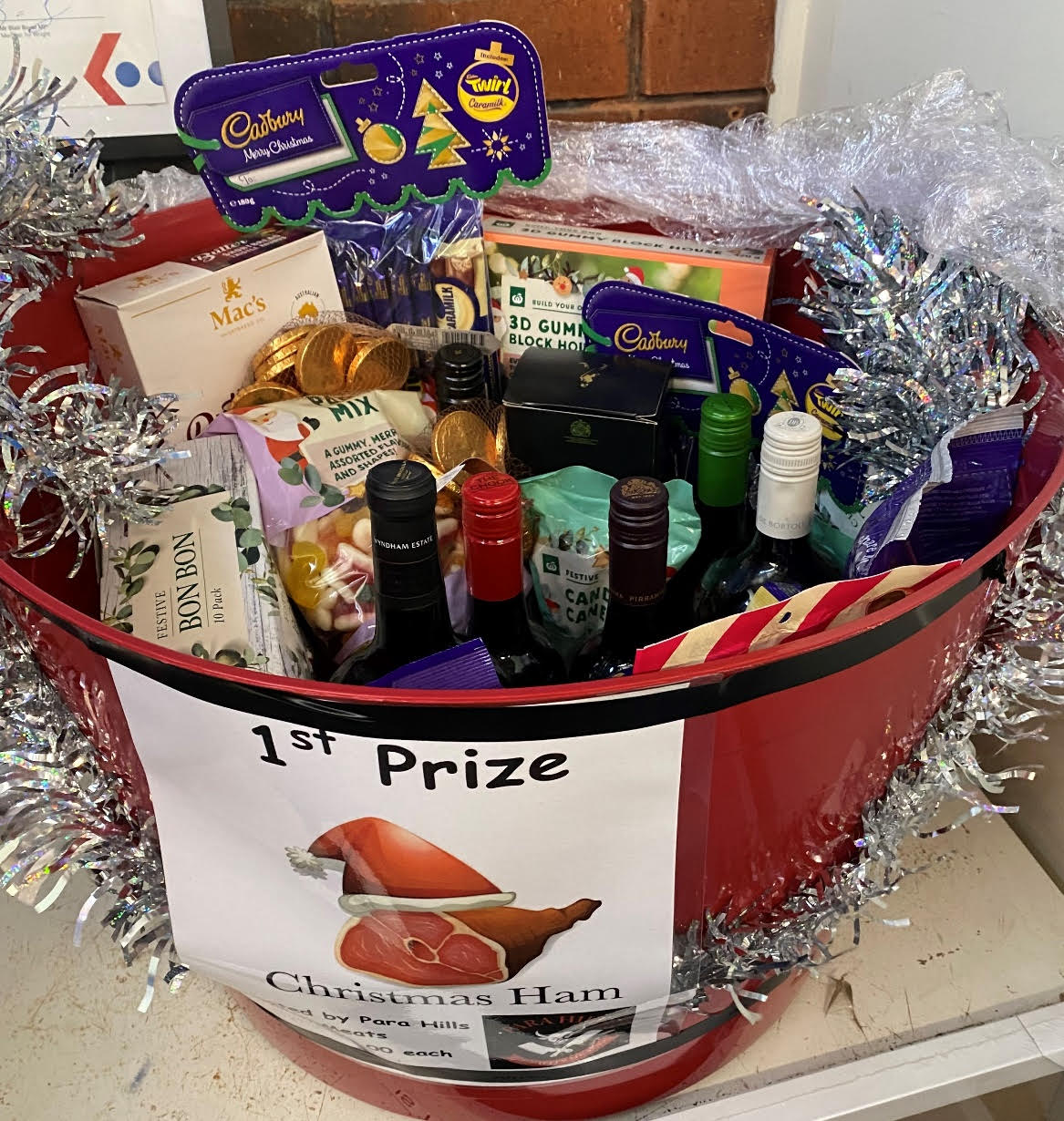 50 CLUB DRAW NIGHT AND CHRISTMAS BREAK-UP
This Saturday, 17 December will be the final reverse draw for the popular 50 club draw.
There are drink packages available for 50 club members, and all club members are welcome to attend. Our Bar Manager Andy Brown will be behind the bar and Steve Conry will be MCing the event.
The Dodgers Christmas Hamper will be drawn on this night as well, just in time for Christmas.
DODGERS AT THE DOGS FUNDRAISING NIGHT
On Thursday, 19 January we will be hosting a fundraising night at the Angle Park Raceway at Chasers Restaurant.
Tickets are $35 for adults and $20 per child.
You will receive a choice of a main meal and drink, race book, entry to the track, and the best reserved seats in the house to view the live races.
This is a popular event and an amazing night out, not to mention a fantastic opportunity to help the club's fundraising for the season. There will also be a raffle drawn on the night.
Tickets available via revolutionise now:
https://www.revolutionise.com.au/ggcd/events/169204/?fbclid=IwAR31rmwe5x3nbY0OD3whroPflau7342yDzFp78Aje-8AQiAjvMs6JsKzv4A
We are still seeking sponsorship opportunities for this event. If you have any connections to a local business, or anyone looking for sponsorship opportunities, this may be the event they are looking for.
For each sponsor you will have a race dedicated to your business at $400 each. You will receive 4 complimentary tickets to the event, and you will also receive media exposure in a range of mediums for the night, including the Advertiser, TAB guide, industry papers, race books, online outlets, as well as the big screen and venue announcements on the night (and of course the goodwill of helping out the club!)
Any questions on this event, please contact our Director of Fundraising and Events Liv Trembath.
UPCOMING EVENTS
– Dodgers T-Ball Christmas Break-up (Friday, 16 December)
– 50 Club Draw Night/Xmas Break-up (Saturday, 17 December)
– Life Members/Sponsors Day (Saturday, 14 January)
– Dodgers at the Dogs (Thursday, 19 January)
– A Very Dodgy Quiz Night (Saturday, 11 February)
– Ladies Day (Saturday, 25 February)
SPONSORSHIP
We are very thankful for our current sponsors for the help and valuable assistance they provide our club.
Please consider supporting the businesses that support your club.
More information available at https://ggcdbaseball.com.au/sponsors/
Club pages to stay up to date:
Facebook members group: https://www.facebook.com/groups/1523263037904411
Dodgers T-Ball group: https://www.facebook.com/groups/DodgersTBall
Facebook page: http://www.facebook.com/ggcdbaseball
On behalf of the Golden Grove Central Districts Baseball Club
E: secretary@ggcdbaseball.com.au
PO BOX 24
SURREY DOWNS SA 5126