Dear members,
The season is rapidly approaching, and we are now at the stage where the club has to formally nominate teams to BaseballSA for the upcoming season, if you haven't made your intentions known to the club if you are playing this season, we are fast approaching our deadlines.
We are also at the stage where we can announce some coaches and they are included in this update. The rest of our coaches will be announced as our team structures are confirmed.
Keep an eye out for our social channels for our club launch day this season, which will be held on Sunday, 24 September. More information will be posted soon around this.
If you are not returning the club this season and no longer want to receive updates from the club, please reply indication this and we will remove you from our mailing list.
WORKING BEE SUCCESS
The Golden Grove Central Districts Baseball Club would like to thank everyone that came out to support our working bee this past Saturday on the weekend of 9 September 2023.
The feedback from the field is that it was one of our most successful working bees in recent times and the contribution from all over the club was noted, so thank you again on behalf of the club.
The turnout and contribution from many people made this job a lot easier and we likely will not need a further working bee this pre-season. We have included some images below from the day
Members working hard on the main diamond cut-outs and fixing screen netting: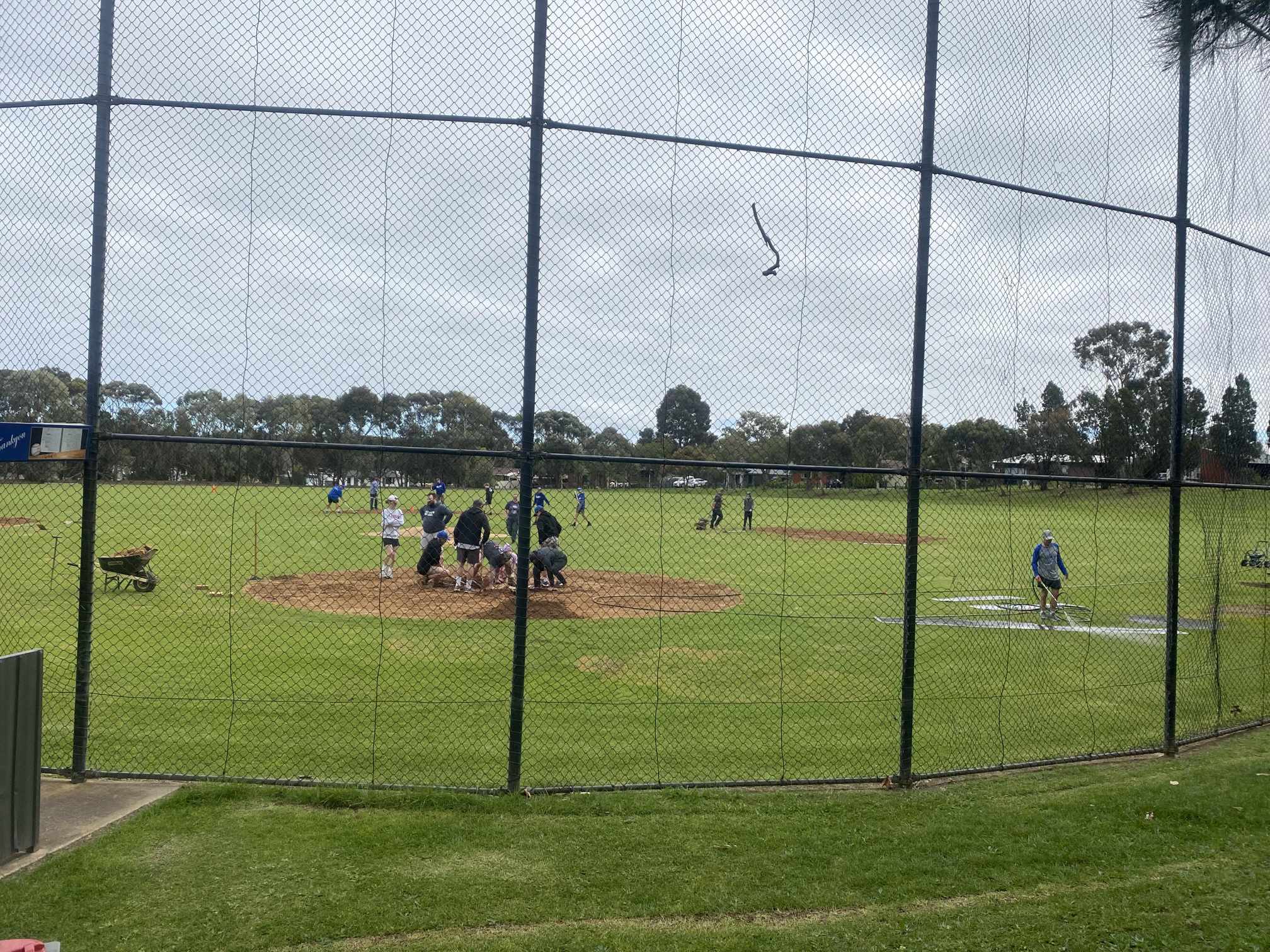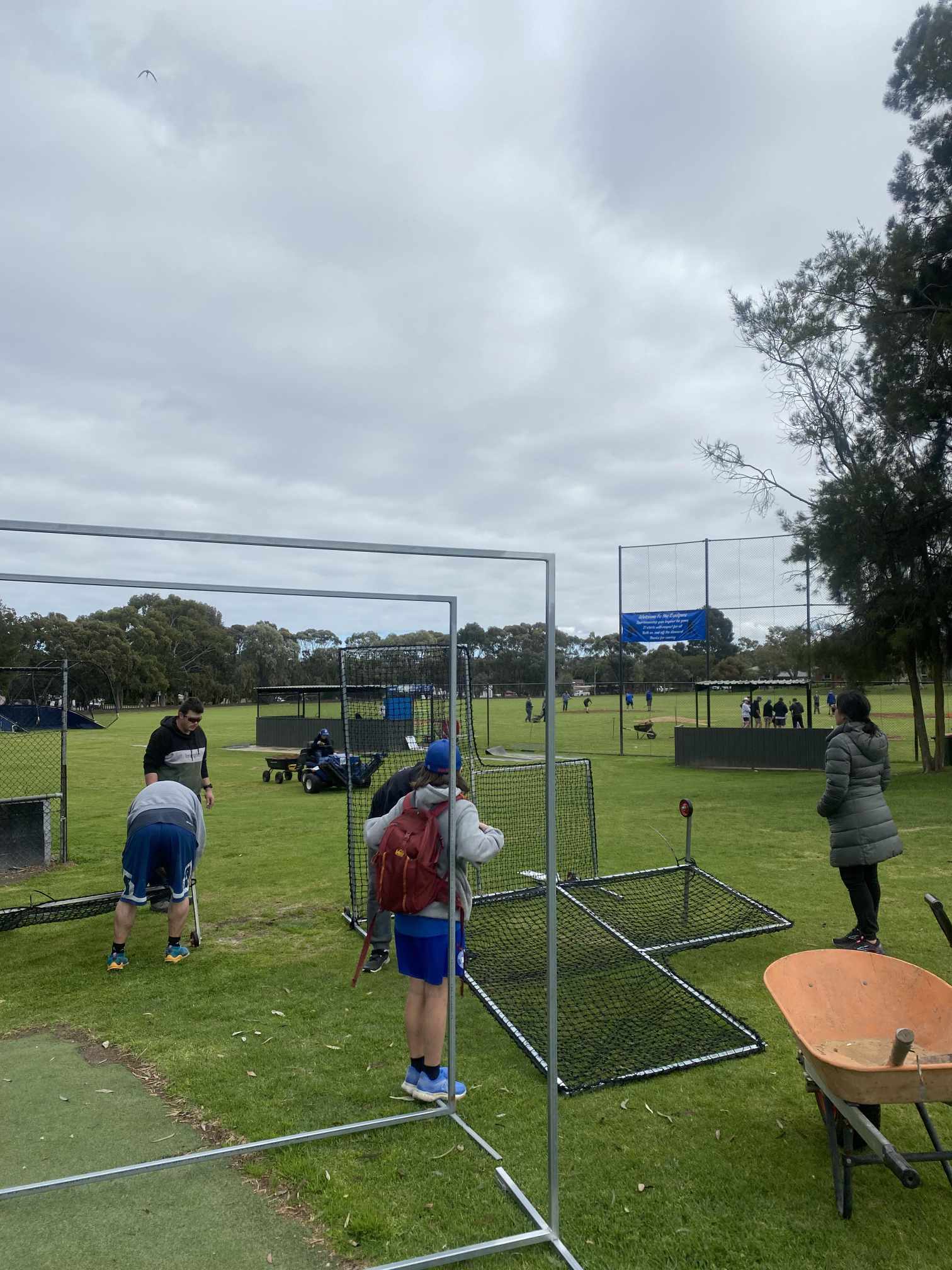 Stevie Shotton helping with home plate: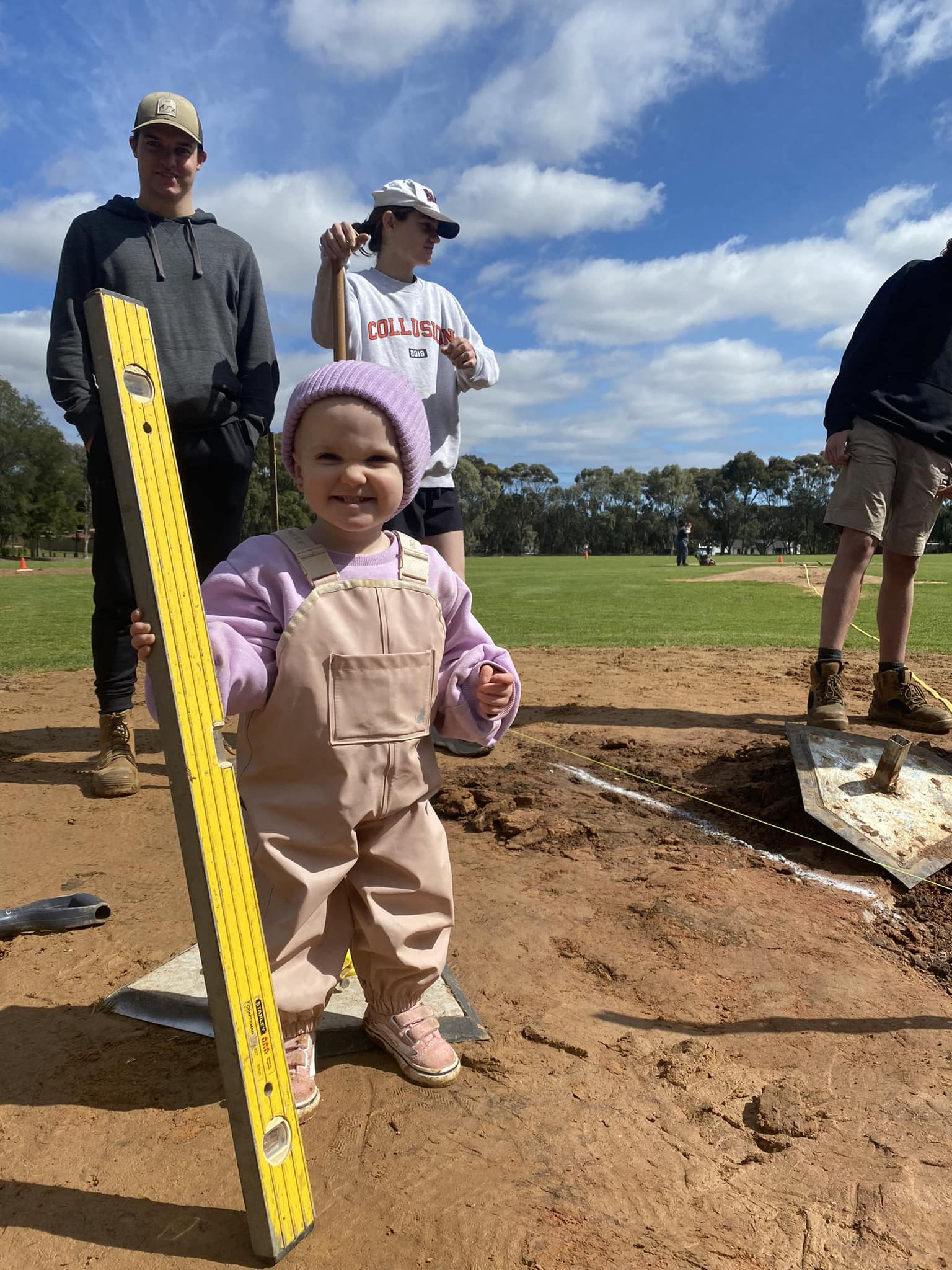 MERCHANDISE ORDERS
Some of our pre-season merchandise orders require pre-ordering as communicated via Facebook channels. The deadline has been extended until 13 September 2023, so get on this quick if intending to order from this batch.
See information below on how to order. Make sure to join our members group on Facebook for up to date merchandise information.
https://ggcdbaseball.com.au/pre-orders-for-new-merchandise-now-open/
SCORERS CLINICS
Scorers clinics will be held on Tuesday nights from 19th September at the clubrooms from 7pm.
Please come along if you are interested or intending to score this season and you would like to learn how!
If you have scored for a season or two and would like to come along for a refresher you are also very welcome.
Bring a pencil, eraser and your email address, so that I can send useful information for you to read at home.
You can contact me via email on vicky.west@bigpond.com or my mobile 0411275008.
Vicky West
Scorers Delegate
PRE-SEASON UPDATED TIMES
Please see updated Pre-season training times for below grades for the week starting 11 September 2023 until further notice. As we come into Daylight Savings Time there will be more movement from weekends into weeknights and communicated accordingly.
Seniors
State League Division 1-2: Communicated separately via Reed Brown
State League Division 3-7: Sundays 10am to 12pm (Top Diamond)
Women's League Division 2-3: Sundays: 2pm to 4pm (Top Diamond)
Junior Divisions
Senior League (Under 17s): Wednesdays from 5pm and Sundays 12pm to 2pm (Main Diamond)
Junior League (Under 15s): Sundays 2pm to 4pm (Main Diamond)
Intermediate League (Under 14s): Sundays 12pm to 2pm (Top Diamond)
Little League (Under 13s): Saturdays 2pm to 4pm (Top Diamond)
Minor League (Under 11s): Sundays 2pm to 4pm (Next to Main Diamond)
HEAD COACH ANNOUNCEMENTS
Please see the below head coach announcements for the 2023/24 baseball season. We will further update on assistant coaches and outstanding junior division coaches in the coming weeks.
STATE LEAGUE
Division 1: Reed Brown
Division 2: Alex Earle
Division 3: Greg Rodgers and Danun Manson
Division 4: Jason Trembath
Division 6: Shane George
Division 7: Phill Hall
Division 7: Stuart Matthews
WOMEN'S LEAGUE
Division 2: Shane George
Division 3: Brandon Diplock and Jason Trembath
Division 3: Anne-Marie Filsell
JUNIOR DIVISIONS
Senior League Division 1 (U17/1): Sam Tibbits
Senior League Division 2 (U17/2): TBA
Junior League Division 1 (U15/1): Jason Trembath and Steve Whitehead
Junior League Division 2 (U15/2): TBA
Intermediate League (U14): Shane George
Little League Division 1 (U13/1): Matthew Burns
Little League Division 2 (U13/2): TBA
Minor League (U11): Davey Roach
Minor League (U11): Justin Burns
SEASON LAUNCH EVENT
We will be hosting an all club season launch event against Gawler Rangers Baseball Club on Sunday, 24 September 2023.
They'll be events for across the club on the day including our Junior program with more information to come, so keep an eye on our socials for up to date information around this and other events.
COMMITTEE VACANCIES
We have several committee vacancies still across our House and Grounds Portfolio, In-house Operations Portfolio and T-Ball Co-ordinator.
Please read the below descriptions and if you can contribute in anyway, or know someone who can, please reach out to the club.
These roles can be completed by groups of people to help lighten the load and ensure the success of our great club this season.
https://ggcdbaseball.com.au/outstanding-board-and-committee-vacancies-2023-24-season/
COME AND TRY T-BALL (DODGERS T-BALL 2023/24)
GGCD Baseball Club will be offering Under 7 and Under 9 teams this season in our Dodgers T-Ball 2023/24 Program.
When
We will play 12 games, starting 27 October to 8 December 2023, resuming on 5 February until 3 March 2024.
Games are played Friday nights from 5:30pm to 6:30pm at the Golden Grove Central Districts Baseball Club.
SA Government sports vouchers are accepted if eligible.
Come 'n' Try
We will host two pre-season Come 'n' Try dates at the club grounds.
Session 1: Monday, 16 October 2023 at 5:30PM
Session 2: Friday, 20 October 2023 at 5:30PM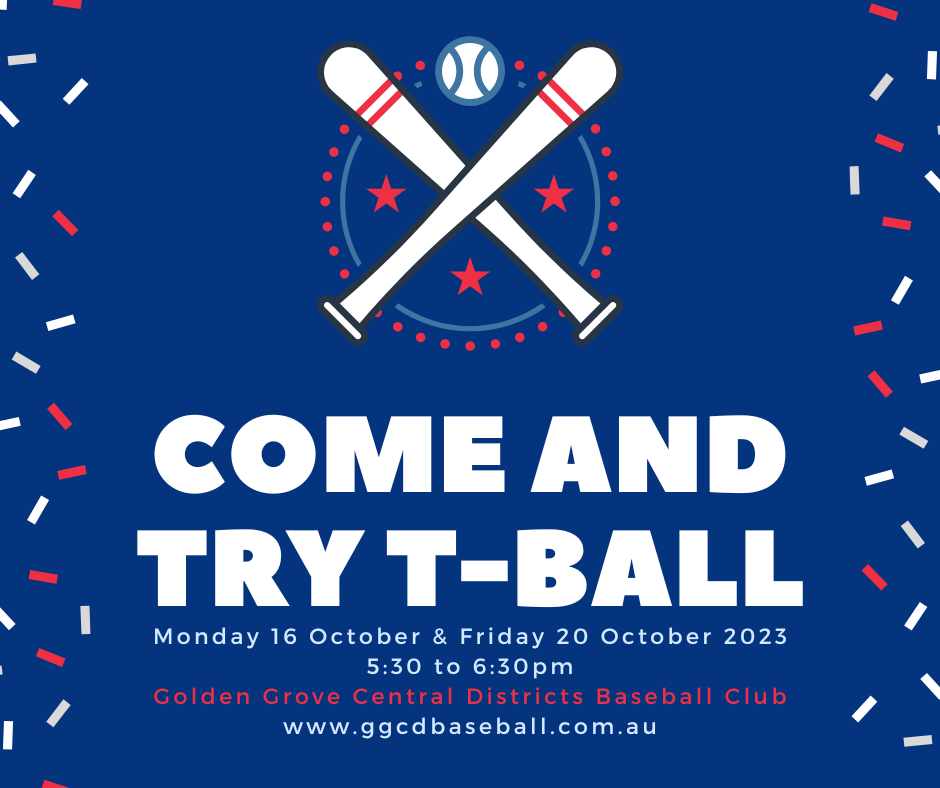 UPCOMING EVENTS
– Season Launch Club Event (Sunday, 24 September)
– Season start date (14-20 October)
SPONSORS
We are very thankful for our sponsors for the help and valuable assistance they provide our club.
Please consider supporting the businesses that support your club.
More information and update packages available at https://ggcdbaseball.com.au/sponsors/
Club pages to stay up to date:
Facebook members group: https://www.facebook.com/groups/1523263037904411
Dodgers T-Ball group: https://www.facebook.com/groups/DodgersTBall
Facebook page: http://www.facebook.com/ggcdbaseball
On behalf of the Golden Grove Central Districts Baseball Club
E: secretary@ggcdbaseball.com.au
PO BOX 24
SURREY DOWNS SA 5126