Dear members,
The last week brought the conclusion of our minor round, while this may mean the end of the season for some of our sides, we are sure there are moments throughout the season that you'll remember and enjoy.
For the 14 of our 20 baseball sides this season that qualified for finals, which includes all 3 of our Women's League sides, 2 of our State League sides, and 9 of our Junior Divisions, the club wishes you the best of luck for your finals campaign. Finals baseball does not come along every day, so make sure you embrace the opportunity and represent your club with full dedication on the day.
We have a total of 5 home games this weekend, so feel free to come along and support the club and our teams this weekend if you are able to. Tonight at the club on the main diamond, our Women's League Division 2 side are taking on Sturt in a Grand Final rematch of 2022 which should be a great game of baseball to watch. We also have our Division 3 Dodgers take on Kensington at Home on the top diamond for another game that should be a nailbiter. Tomorrow, our State League Division 8 will take on Gawler with aims to progress through to the next stage. We have two Junior sides playing at home Sunday, Minor League Dodgers against Port Adelaide at 9am and Little League Division 1 against Woodville at 11am in what should also be good games to come out and support.
Next Saturday, 18 March is our 50 club draw night. Andy Brown is releasing more information through Facebook this week for what should be a good night to support the club.
Finally, if you have any photos this week around the club, please share them with our Facebook members group. We would love to have team group photos provided of all our finals teams participating, and be able to support our teams this weekend in their endeavours.
WEEKEND FIXTURES
Women's League – Friday, 10 March 2023
Division 2 vs Sturt (Home) at 6pm
Division 3 Dodgers vs Kensington (Home) at 6pm
Division 3 GGCD vs Henley and Grange (Away) at 6pm
State League – Saturday, 11 March 2023
Division 7 vs Glenelg Gold (Away) at 9am
Division 8 vs Gawler (Home) at 9am
Junior Divisions – Sunday, 12 March 2023
Senior League Division 1 vs West Torrens (Away) at 9am
Senior League Division 2 vs Kensington (Away) at 11:30am
Junior League Division 1 vs Port Adelaide (Away) at 1:30pm
Junior League Division 2 vs Woodville (Away) at 1pm
Intermediate League vs Port Adelaide (Away) at 4pm
Little League Division 1 vs Woodville (Home) at 11am
Little League Division 2 Dodgers vs Red Rangers (Away) at 11am
Minor League Dodgers vs Port Adelaide (Home) at 9am
Minor League GGCD vs East Torrens (Away) at 9am
JUNIOR PRESENTATION NIGHT
Our club is holding our Junior Presentation at Waterworld again this season after the success of previous years. This will be held on Saturday, 1 April for a 6:15pm arrival time. Please RSVP to your coach by 27 March as we need to know numbers.
SENIOR PRESENTATION NIGHT
Our club is holding our Senior Presentation Night at the Modbury Hotel on Friday, 31 March in what should be a great night to celebrate our club this season.
Payment information will be released shortly and communicated via Facebook and online.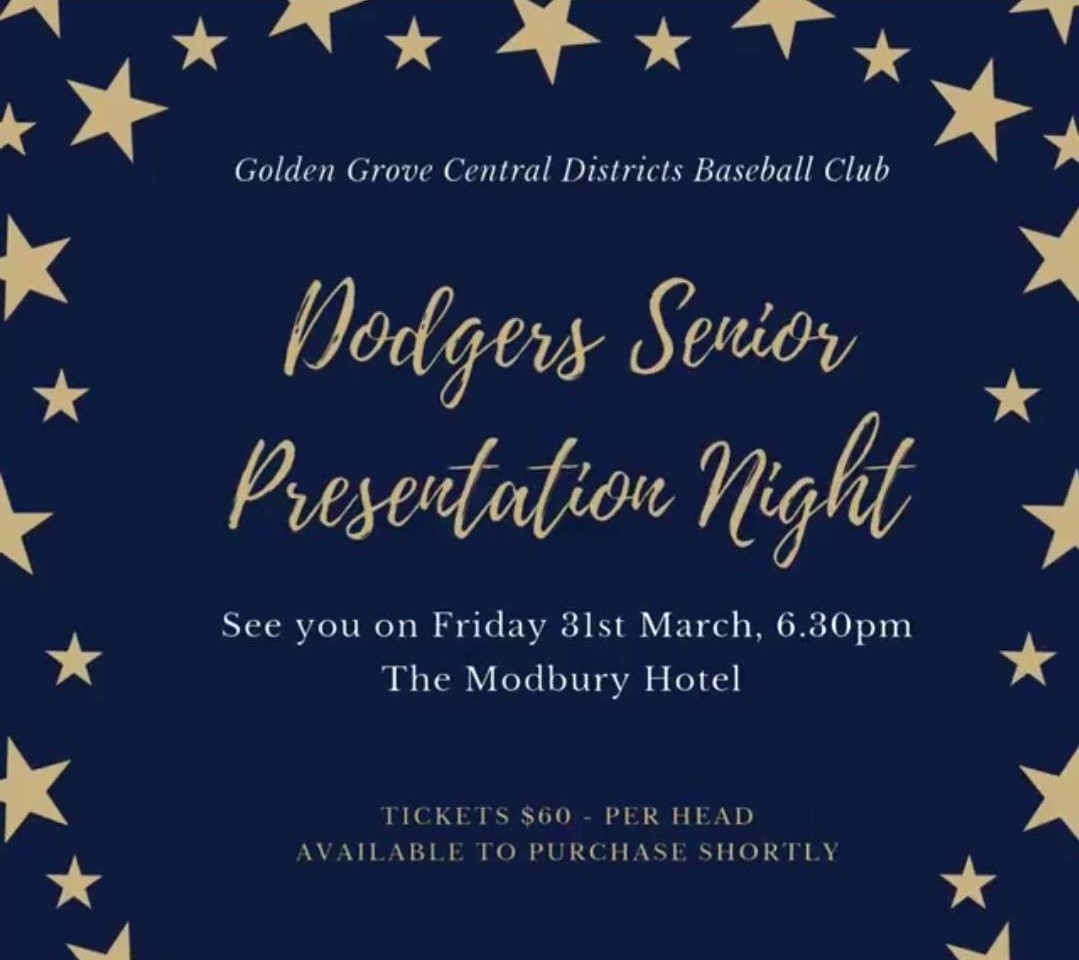 STATE YOUTH WOMEN'S SQUAD
The club wishes to congratulate Maya Watson from our Women's Division 3 Dodgers team who has been selected in the South Australian Youth Women's State Roster.
She will compete at the Australian Youth Women's Championships in April in Victoria. Best of luck from the club!
CAPPS MEDAL
The Capps Medal evening is being held on Wednesday, 22 March at Adelaide Entertainment Centre. A change from last season, it will be indoors and a formal two course sit-down dinner.
To encourage our nominated players to attend, and their team-mates to support them, Capps Medal presentation tickets are being made available at a cost of $60 for club members wishing to attend.
Please transfer funds to our bank account with "Capps – Surname" and let Sharee Forrester know once you have done so, and who is attending.
We need to finalise numbers by Tuesday, 14 March, so please organise this if you have not done so already.
GGCD Bank account details:
Bank – BankSA
BSB – 105-001
Account Number – 145033640
Account Name – GGCD Baseball Club Inc
With all electronic transfers please indicate the reason for payment using the 'Reference Box'.
WORLD BASEBALL CLASSIC
The World Baseball Classic started this week and is being held across Taiwan, Japan and the United States.
Team Australia qualified into Pool B being played in Tokyo, and will come up against the likes of Japan, South Korea, China and the Czech Republic.
Their first game yesterday was a nail-biter win over a tough South Korea. If you want to watch some of the best players in Australia take on the likes of Shohei Ohtani from Japan, then tune in to watch the rest of the series that's being played this month.
DIVISION 8 MINOR PREMIERS
Congratulations to our State League Division 8 side who finished the season as Minor Premiers, ending up the regular season in 1st place with a total of 18 wins out of 20 games.
They will play home on Saturday morning at 9am, taking on Gawler in what should no doubt be an exciting game to watch.
Their coach and starting pitcher, Stuart 'Wiz' Matthews has also polled in the top 5 for the League medal. Good luck to Wiz and the boys on the weekend and for their finals campaign. Bring home the gold!
TOP 5 LEAGUE MEDAL COUNT
Results are still being published for other grades, but congratulations to the following Dodger legends who have polled in the top 5 of their respective Divisions so far. It's a recognition of the quality these players bring to their teams and the field each week, and the club is hoping you have a good night at the Capps Medal presentation.
Katie Carpenter – Women's Division 2
Breanna Rix – Women's Division 3
John Inglis – State League Division 2
Alex Earle – State League Division 3
Brandon Diplock – State League Division 5
Shane George – State League Division 6
Gavin Payne – State League Division 7
Stuart Matthews – State League Division 8
VOLUNTEERS NEEDED
The club is seeking volunteers to help with the canteen and bar this weekend so that families can watch their loved ones play finals baseball.
If you are able to provide even an hour of your time to assist, please reach out to our In-House Operations Director Andrew Brown on Facebook to confirm.
UPCOMING EVENTS
– 50 Club Night (Saturday, 18 March 2023)
– Capps Medal Presentation Ceremony (Wednesday, 22 March 2023)
– Senior Presentation Night (Saturday, 31 April 2023)
– Junior Presentation Night (Saturday, 1 April 2023)
SPONSORS
We are very thankful for our current sponsors for the help and valuable assistance they provide our club.
Please consider supporting the businesses that support your club.
More information available at https://ggcdbaseball.com.au/sponsors/
Club pages to stay up to date:
Facebook members group: https://www.facebook.com/groups/1523263037904411
Dodgers T-Ball group: https://www.facebook.com/groups/DodgersTBall
Facebook page: http://www.facebook.com/ggcdbaseball
On behalf of the Golden Grove Central Districts Baseball Club
E: secretary@ggcdbaseball.com.au
PO BOX 24
SURREY DOWNS SA 5126