How good is this?!
Just by registering to play for the Golden Grove Central Districts Baseball Club this season, eligible players will gain a free season membership to the Adelaide Giants!
Check out the news from the Adelaide Giants per below:
from: https://adelaidegiants.com.au/news/free-kids-membeships-afs/
22 AUGUST 2023
JUNIOR BASEBALL PLAYERS IN SA TO GO FREE TO GIANTS GAMES, THANKS TO AUSTRALIAN FIRE SERVICES
Every registered baseball player in South Australia under the age of 16 and below will get a free full regular season membership to Adelaide Giants home games this season, thanks to a joint initiative between Australian Fire Services, BaseballSA and the Adelaide Giants.
The program, supported by Australian Fire Services, will be launched for this upcoming ABL season and applied upon registration for the upcoming season with BaseballSA.
Australian Fire Services (AFS) is co-piloting the program. AFS director Shayne Bennett, one of four players from Adelaide to ever reach the Major Leagues, says the partnership is about giving back to a community that's supported him and promoting the greatest game on earth.
"Anything we can do to try to build the game of baseball, we will do," says Bennett. "Getting more kids to the game, to see their heroes, encourage more to play the game, and to see future MLB players is important."
BaseballSA is in support of the program and will assist with the registration. There are baseball clubs all around the state and likely one in a suburb near you! Baseball is fun, accessible and approachable for all skill levels.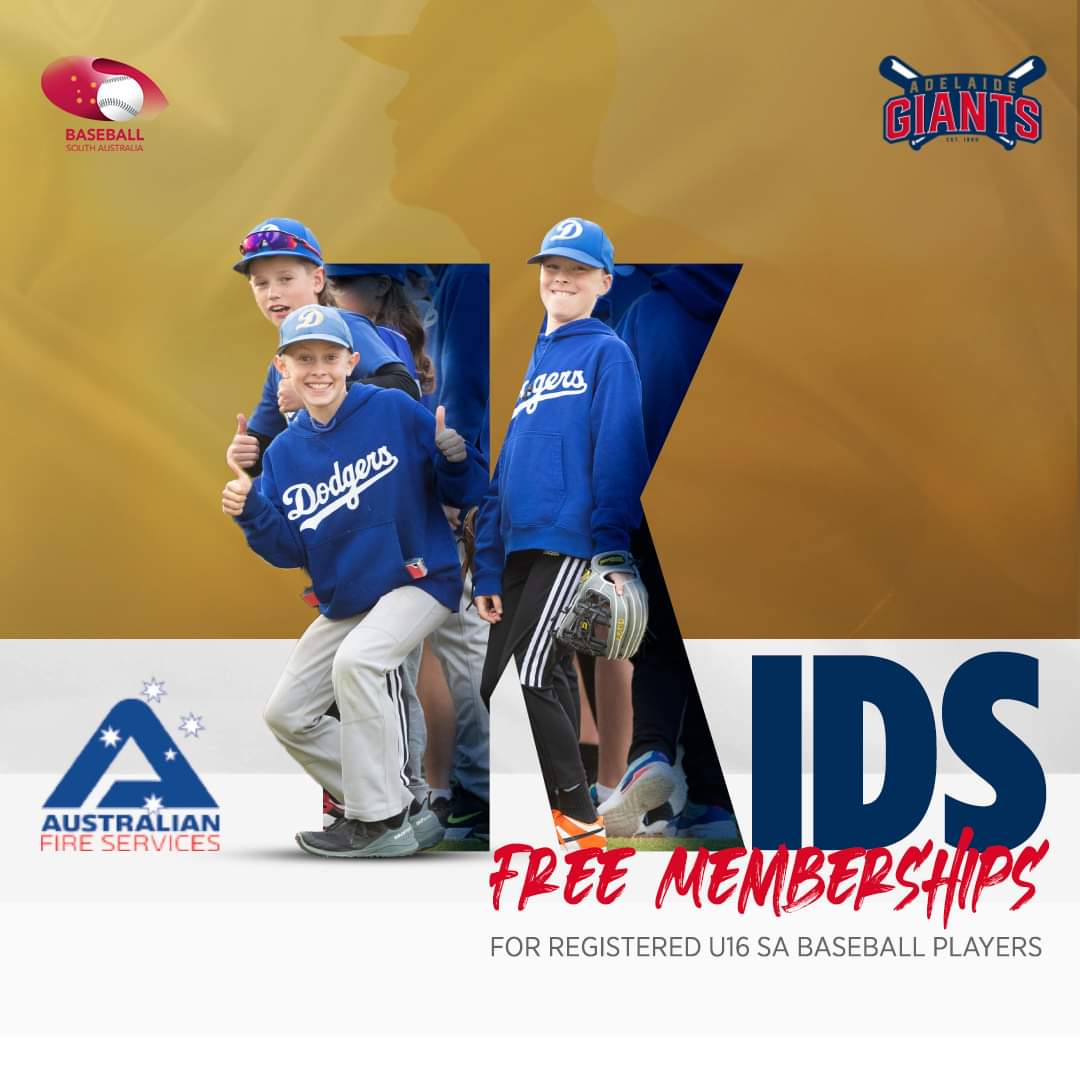 Kids with no experience are encouraged to play the greatest game on earth – as are adults!
"Hopefully it can help encourage more kids to play baseball in South Australia," says Bennett.
The Giants have seen 12 players since 2010 move on to the Major Leagues after a stop in Adelaide.
Recently, Curtis Mead became the fourth South Australian born player to go all the way.
Here's how you can sign up for the Junior Player Membership and see the Giants play this year.
JUNIOR PLAYER MEMBERSHIP, brought to you by Australian Fire Services
1. Register for your baseball club via BaseballSA and your club;
2. Type "Yes" when asked "Would you like a FREE Junior Giants Membership?";
3. That's it! Digital membership will be added to a Giants "tickets.com account" email address, the one you used for registration. You will be emailed once your membership has been processed the first week of October.